Hospital donates $9,000 for behavioral health scholarship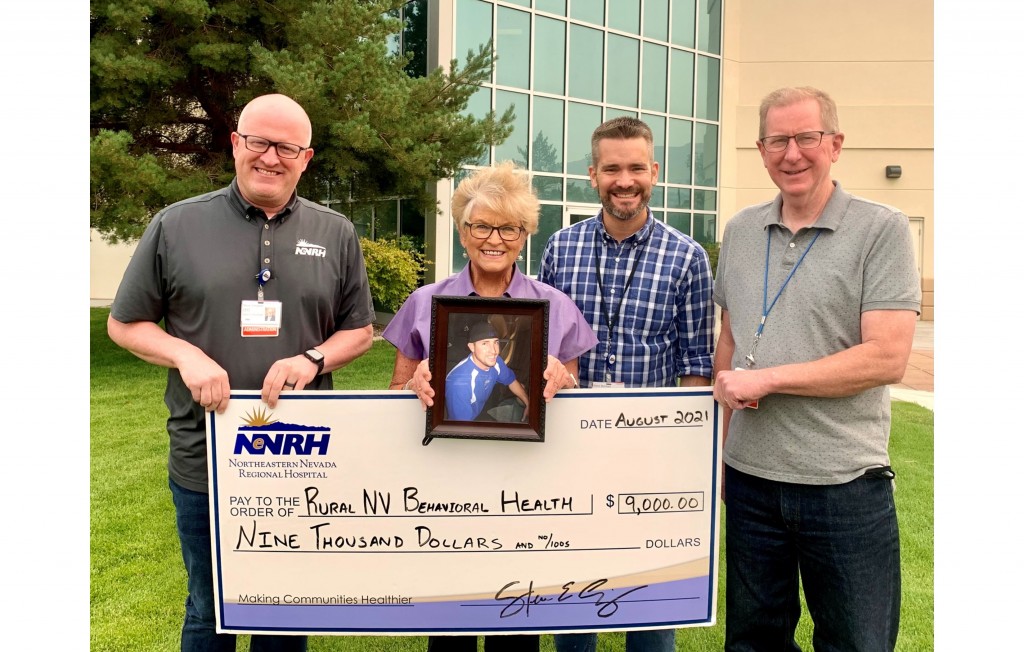 Leaders from Northeastern Nevada Regional Hospital pose with Wendy Charlebois and a photo of her son, Luke Anderson, who died by suicide in 2018. Pictured from left: Steve Simpson, hospital chief executive officer; Charlebois; Steve Burrows, director of community relations; and Greg Hexem, chief financial officer.
ELKO, Nevada – Northeastern Nevada Regional Hospital (NNRH) has pledged to donate $9,000.00 to the Great Basin College Foundation to establish a scholarship for social work students. The fund is entitled the Rural Nevada Behavioral Health Workforce Development Scholarship and its ultimate goal is to increase the number of licensed clinical social workers (LCSWs) in the region.
"We understand the vital role that LCSWs play in supporting behavioral health patients, and we also understand there's an acute shortage of these professionals in our community," said Steve Simpson, CEO of NNRH. "Our goal is to support students at Great Basin College who are entering the fourth year of the bachelor of social work program in partnership with the University of Nevada, Reno. Ultimately, we want to encourage these homegrown social workers to stay in rural Nevada so they can help improve the mental health of their hometowns," Simpson explained.
The $9,000.00 pledged by the hospital will support three students over the next three years, with each student receiving a $3,000 scholarship. Simpson stated the hospital is hopeful other organizations will donate to support additional social work students each year.
The need for more social workers in rural Nevada is not just theoretical to community member Wendy Charlebois. In 2018, Charlebois lost her son, Luke Anderson, to suicide. She often wonders if wider access to behavioral health services might have saved his life.
"Luke Elliott Anderson was a young man with a big heart," Charlebois stated. "He graduated from Elko High School where he was an excellent student and where he played varsity soccer and baseball. Luke was generous and funny. He had a beautiful little girl, a loving family and a great job. He enjoyed being outdoors and he loved to fish. Unfortunately, like so many other people, Luke had mental health problems that led to a severe addiction to alcohol. It was difficult for Luke to find the right kind of help and he struggled day after day. After years of depression and addiction, Luke took his own life on September 30, 2018, at the young age of thirty-three."
Since the passing of her son, Charlebois has worked to promote suicide prevention and increase community education. In 2020, she approached NNRH with the idea of establishing a scholarship for future social workers.
"I'm very grateful the hospital has been willing to work with me to set-up this scholarship in honor of my son, Luke. In keeping it local, the GBC Foundation will guide the process of selecting recipients and disbursing funds," Charlebois explained. "This scholarship will help train the next wave of social workers in our region. We need more professionals here who understand addiction and who are compassionate about it."
Charlebois said she is hopeful these efforts will eventually help others who are struggling with depression, addiction or suicidal ideation.
"Luke's story didn't end very well but that doesn't have to be the case for others," Charlebois stated. "The important thing is to reach out. There is help available. While there is life, there is hope. So, please, reach out."
Read All Posts