The City of Elko is the County Seat, and the second largest county in the state. The Elko Township, which includes several neighboring communities, has a population of 34,000. Elko borders Idaho on the north and Utah on the east. Elko is 300 miles east of Reno, 240 miles west of Salt Lake City, and 250 miles south of Boise. Elko covers 11.5 square miles with an elevation of 5,060 feet. The County's highest elevation point is the majestic Ruby Mountains at 11,000 feet.

The average family income in Elko is $61,167, the fourth highest in the state of Nevada, where there is no state tax. Elko's economic base includes gold mining, cattle ranching, gaming, tourism, government jobs, and a large service industry. Elko's Airport offers commercial, general and charter aviation flights. Elko also offers 8 shopping mini-malls, four casinos, seven grocery stores, 24 churches, 32 hotels/motels, 50 restaurants, two cinemas with nine theaters and two comprehensive libraries - Elko County Library and the Great Basin College Library, offering nearly 200,000 volumes.

Elko originated as a railroad town in northeastern Nevada in 1868. The discovery of gold and ranching helped Elko to grow. Basque sheepherders from the Pyrenees Mountains in Spain began immigrating to Elko in the 1890s to work cattle or sheep ranches and their influence is prominent today. Every summer the town celebrates the Basque culture by hosting the National Basque Festival. Home to many working cowboys, Elko also hosts the world-famous annual Cowboy Poetry Gathering where cowboy poets from around the nation meet to exchange verses.

Although remains of turn-of-the-century mining camps are evident in and around Elko, mining is still a big industry. Northeastern Nevada is the largest producer of gold in the United States - only one of the reasons why Elko is known as the "Golden Opportunity Zone" of Nevada. Elko continues to grow and prosper, while maintaining the small-town values and traditions that make it a fine place to raise a family.
Education
In the Elko and Spring Creek area, there are six elementary schools, four middle schools, two high schools, and an Adult Education Program. Additionally, six pre-schools and two Christian schools offer education from kindergarten through high school.

For individuals seeking higher learning, Elko offers Great Basin Community College ("GBC"), which has provided educational opportunities to the citizens of northeastern Nevada for more than 30 years. Yearly, GBC serves 6,000 students in five counties. Future plans for GBC include baccalaureate programs, dormitories, an industrial technical center and a shared technology center.
Recreation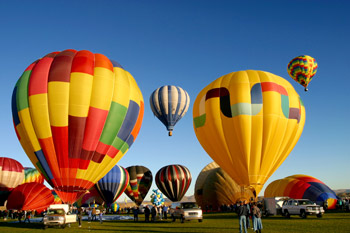 Whether you're an outdoor or indoor person, Elko offers something for everyone. Summer recreation includes horseback riding, golfing, fishing, mountain biking, motor-cross racing, basketball, football, baseball, Little League, rock climbing, water skiing, boating, wildlife watching and photography, picnicking, back-packing, cattle drives and city slicker tours, camping and hunting. Winter recreation and fun is just 6 miles north of town at the "Sno-Bowl" ski area. Local residents enjoy downhill and cross-country skiing, sledding, tubing, building snowmen and of course, snow-ball-fights. We also offer snow-mobiling and helicopter and snowcat skiing.

For a different type of entertainment, there are three main casinos in Elko with gaming tables and nightly shows. For the sports enthusiast, Elko has two 18-hole golf courses, an athletic club, tennis courts, a municipal swimming pool and over 120 acres of parks.

Elko is home to a community orchestra, convention center, a theatrical group, the award winning Northeastern Nevada Museum, County Fair, Classic Car Shows, craft fairs and community barbecues.
Community Health Assessment
Find a comprehensive assessment of Elko County's disease processes and outcome reports here.