Hospital breaks fundraising record to fight cancer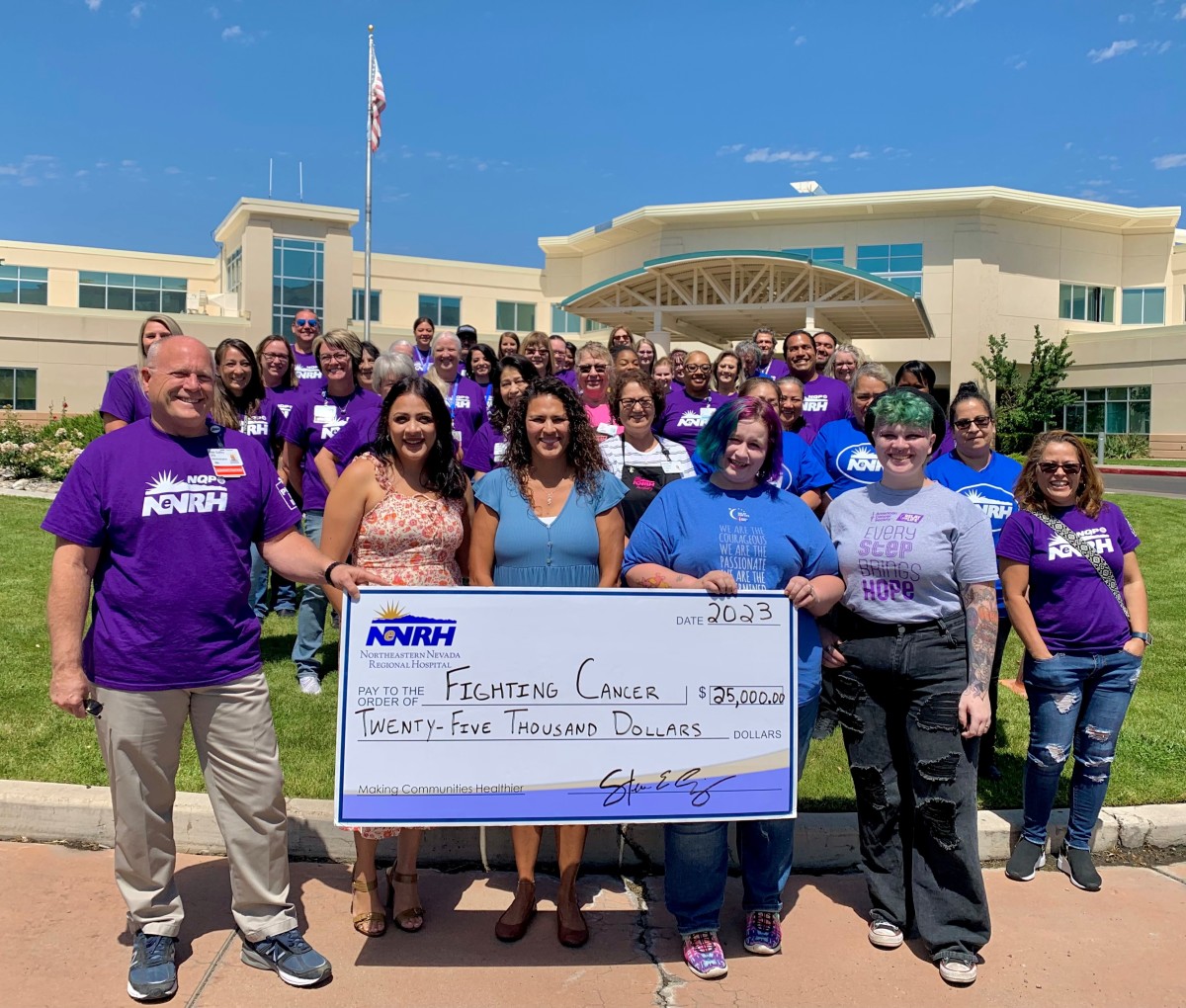 Caption: Staff members at Northeastern Nevada Regional Hospital (NNRH) pose with representatives from the Elko Cancer Network (ECN) and the American Cancer Society (ACS). In the front row, from left: NNRH CFO Dale Guffey, ECN board members Fabrizza Baeza and Armida Marin, ACS volunteers Bri Drake and Des Maroney, and NNRH staff member Nellys Olson.
ELKO, Nevada – Employees at Northeastern Nevada Regional Hospital (NNRH) raised $25,000 to fight cancer in conjunction with this year's Relay For Life event. This was a record-breaking amount for the hospital, surpassing their 2019 fundraising record of $22,500.
"This money goes directly to fighting cancer, either by funding research or supporting cancer patients," said Dale Guffey, chief financial officer at NNRH. "I'm very proud of our staff members who donated so generously and fundraised so enthusiastically. This is a testament to their dedication to our mission of making communities healthier."
According to Guffey, NNRH staff members raised the first $12,500 for the American Cancer Society through a variety of fundraisers this spring and summer including a raffle for which every hospital department donated a prize. The NNRH administration then matched that amount dollar-for-dollar with a contribution to the Elko Cancer Network, bringing the total amount raised to $25,000.
"It's important to us that we support both the national fight against cancer and also a local nonprofit that is working to address community needs," Guffey stated. "The Elko Cancer Network lends a helping hand to people right here in our region who are bravely battling cancer. It's our privilege to support them in this effort. Together, we are making a difference."
Those who are interested in learning more about the Elko Cancer Network and the ways they support cancer patients in northeastern Nevada may visit www.elkocancernetwork.org.
Read All Posts