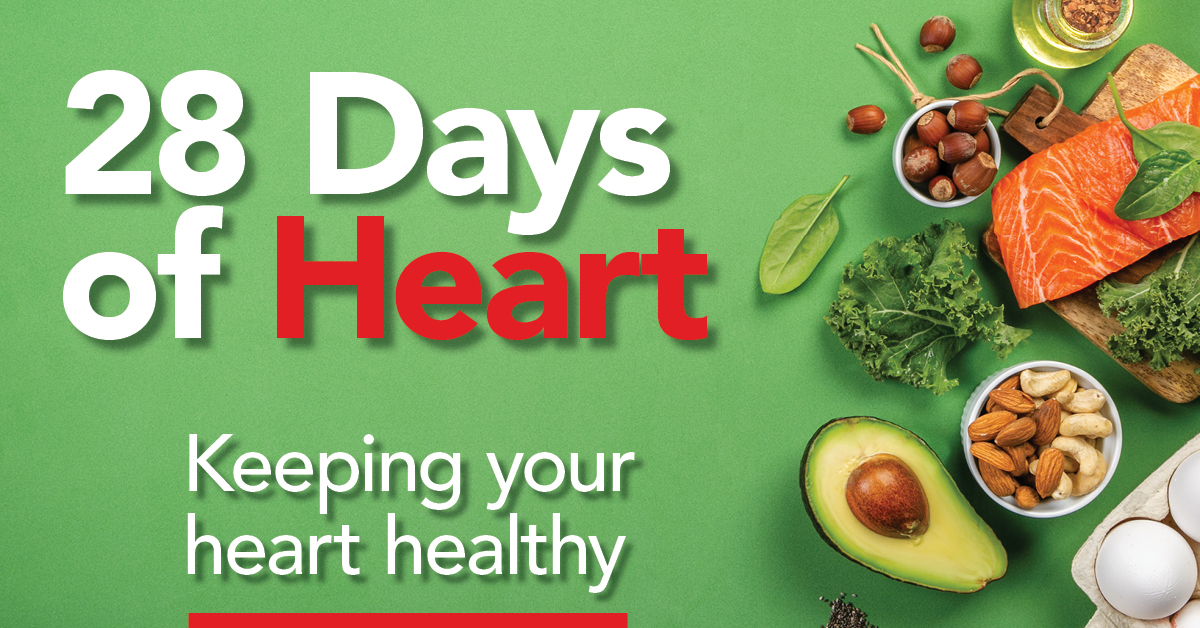 Each February, we focus on heart health and the essential role it plays in our overall well-being, as part of American Heart Month. Maintaining good heart health can help you add years to your life. This year, we're celebrating 28 Days of Heart Health. Come back to our website each day this month for short articles, featuring recipes, tips, exercise ideas and important info to help you stay heart smart.
Day 1: Welcome to 28 Days of Heart Health
We're kicking things off today with a recipe for Roasted Salmon with Pesto Vegetables. Read more.
Day 2: Thirty Minutes a Day to Keep Heart Disease Away
Did you know that exercising as little as 30 minutes every day can improve your heart health and quality of life? Read more.
Day 3: Overlooked Symptoms to Watch
Symptoms of a heart attack can be much more subtle than how they're portrayed in the movies. Read more.
Day 4: Warning Signs for Women
You might think that gender doesn't matter when it comes to heart disease. But it does. Read more.
Day 5: Give Your Kitchen Pantry Some Love
Eating smart for your heart starts at home. But how do you know what to stock up on to keep your meals heart-healthy? Read more.
One step in taking charge of your health is knowing specific numbers that play an important role for your heart. Read more.
Day 7: The Heart Benefits of Yoga
Yoga is a practice that – according to the American Heart Association – reaps widespread benefits. Read more.
If you're an egg lover, you may scoff at eating just the whites. Not so fast! Read more.
As we have been spending more time at home, there's a good chance many of us are spending too much time sitting! Read more.
What does BMI mean anyway? Learn about your numbers and why they matter. Read more.
If you or someone you know exhibits signs of heart disease, it's important to act quickly. Read more.
Learn how laughter can have a positive effect on your heart health today. Read more.
Here are some key questions to ask your doctor about your medication prescriptions. Read more.
Day 14: Me-Time For Your Heart
Cupid says you should carve out some me-time today. Read more.
Day 15: Give Your Brown Bag A Boost
Check out this heart-healthy twist on broccoli salad to put some pizazz in your lunch pack today. Read more.
Day 16: Heart Health Starts At Home
Did you know you can get your physical activity in without even leaving your house? Read more.
Day 17: How Weight Can Weigh On Your Heart
Being overweight can be a critical indicator of risk for heart problems. Read more.
Day 18: Having A Heart-To-Heart About Health
Here are some tips for having an open and honest conversation about heart disease. Read more.
Day 19: Fun Facts About Your Heart
How well do you know your own heart? Check out some fun facts about your ticker. Read more.
Day 20: Annual Check-Up For Your Heart
Learn about some common screenings you should consider on your next wellness visit. Read more.
Day 21: The Hearty Benefits of Sleep
Get practical tips for a better sleep tonight. Read more.
Check out this recipe for a delicious, heart-healthy treat. Read more.
Day 23: Got Kids? Give 'Em Heart
These kid-friendly health tips will get your family moving today and every day. Read more.
Day 24: Heart Health At Any Age
Each new decade brings new challenges, not the least of which is how to properly care for your heart. Read more.
Learn what to do if you or someone you love may be experiencing a heart attack. Read more.
Day 26: Surprising Ways to Boost Your Heart Health
There are a number of things you can do to give your heart a boost that might surprise you. Read more.
Learn about the link between your family medical history and your heart health. Read more.
Day 28: A Hearty Recipe For The Road
Enjoy this tasty white bean chicken chili while you plot out the next steps of your health journey. Read more.
---
Thank you for joining us for 28 Days Of Heart. Here's wishing you the best of health!