A Hearty Recipe For The Road
Thank you for joining us on this 28-day journey of heart health. We hope you've found it helpful and that you've learned something about your heart that you may not have known before.
Remember, heart health isn't about a crash diet. It's not about getting up at 5 am to run 10 miles every day or vowing to never eat dessert again. And it's not a sprint. It's a commitment to yourself and your family to make heart health – and your overall health – a priority in your life. It's about establishing healthy habits that will help sustain your heart for years to come.
Before you go, here's one more recipe that's a great heart-healthy addition to your collection.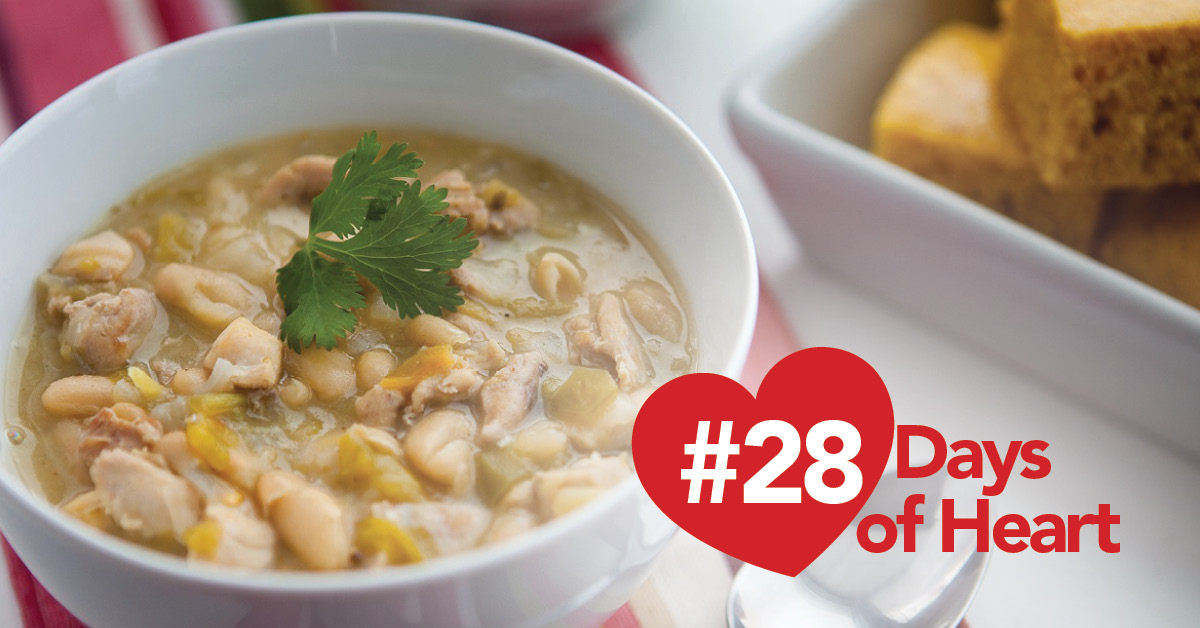 White Bean Chicken Chili
1 tbsp olive oil
1 ½ cups chopped onion
2 4-oz cans chopped green chiles
1 tsp dried oregano
1 tsp ground cumin
1/8 -1/4 tsp cayenne pepper
3 15-oz cans great northern beans, rinsed
4 cups reduced-sodium chicken broth
4 cups diced cooked skinless chicken (or turkey)
2 tbsp cider vinegar
Heat oil in a large pot or Dutch oven over medium-high heat. Add onion and cook, stirring occasionally, until softened, about five minutes. Stir in chiles, oregano, cumin and cayenne pepper. Stir occasionally, for five minutes. Stir in beans and broth and bring to a simmer. Cook, stirring occasionally, for 20 minutes. Add chicken and vinegar and cook for five minutes more.
Here's wishing you and your heart the very best of health!